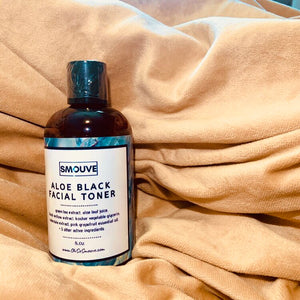 Our Aloe Black Facial Toner is the perfect solution for toning skin without extra additives. Loaded with Black Willow Bark Extract and Aloe Vera, this product helps to reduce signs of aging, decongest skin, and eliminate acne and oil buildup for all skin types, normal to combination. Enjoy the added benefits of Green Tea Extract, Calendula Extract, and Pink Grapefruit Essential Oil for best results. 

who its for: ideal for normal, oily, problematic, combination skin.
how to use: Apply toner to a cotton round and use gentle strokes to cover the face and neck after cleansing. No rinsing is necessary; afterwards, complete a morning or evening skincare regimen. During the day, use a broad-spectrum sunscreen with an SPF rating of at least 30.
ingredients: green tea extract, aloe leaf juice, black willow extract, kosher vegetable glycerin, calendula extract, pink grapefruit essential oil, phenoxyethanol preservative, ethylhexylglycerin preservative