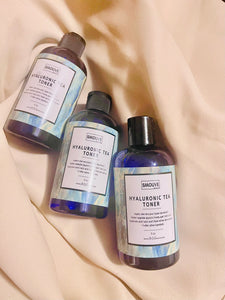 Our Hyaluronic Tea Toner is infused with green tea and hyaluronic acid to help fight against premature aging while promoting the attraction of moisture all while reducing inflammation and puffiness in the skin This toner is formulated to protect the skin from harsh environmental damage while providing enhanced hydration and visibility of younger-looking skin..
who it's for: all skin types
how to use: Apply toner to a cotton round and use gentle strokes to cover the face and neck after cleansing. No rinsing is necessary; afterwards, complete a morning or evening skincare regimen. During the day, use a broad-spectrum sunscreen with an SPF rating of at least 30.
suggested usage: daily
ingredients: organic aloe vera juice, kosher vegetable glycerin, green tea extract, hyaluronic acid, black willow bark extract, honey quad, lactic acid, ethylhexylglycerin, phenoxyethanol